Storage ideas for a small bedroom
Small bedroom designs
Small bedrooms don't have to look and feel the size of a shoebox. Forget the idea that tiny spaces can only be decorated in light colours and with minimal furniture and learn how to create a small but beautiful room, filled with colour and texture with our inspirational ideas.

Finding the right design for a small bedroom can be a challenge. But with smart planning, hidden storage and a clever use of colour, even the most petite bedroom can feel spacious and clutter-free.

Start by choosing your theme. Opting for something chic and elegant, such as a blue and white colour scheme will create a stunning base to build on. Add touches of toile on soft furnishings, a shabby chic cabinet and a fabric chair and your small bedroom will be filled with French charm.

If you love bold prints, don't shy away from your favourite pattern in a small bedroom. Whether it's on walls or soft furnishings, make a feature out of a strong design: Papering one wall with flocked or floral wallpaper will stop the pattern from taking over the small room, but will still achieve the desired finish.

Save space by choosing smart storage solutions, such as under-the-bed boxes or built in shelving units, or by opting for a single bed over a double. If you are renovating an attic, slot the bed under the sloping roof to make room for more furniture. Create depth with textured soft furnishings, warm colours and personal touches to give the room a homely touch.

Pretty bedroom with feature wallpaper (pictured)
Pretty up a small bedroom with a floral wallpaper design. Avoid overpowering the space by hanging it on one feature wall behind your bed.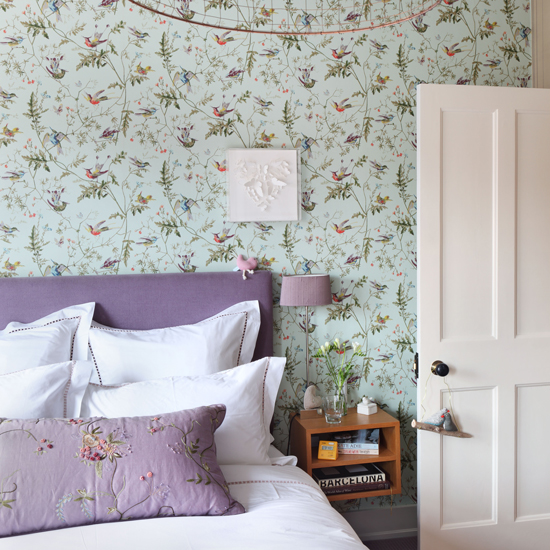 Compact bedroom with exposed stone walls
If you have a low ceiling area, such as in a loft conversion, tuck your bed under any slope to save space. The pretty stonework detailing and classic prints make a lovely focal point in this attic bedroom.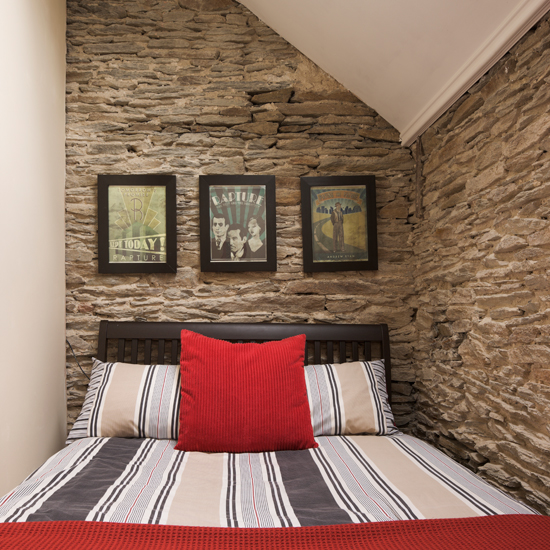 Cream French-style bedroom
Just because your bedroom is small, doesn't mean you can't buy a statement bed frame, perfect for a classic-style look. Choose a design that's not solid, like an iron frame, and keep the walls and flooring neutral. A cream and blue blind with a French-inspired design can create the basis for a neutral scheme with touches of deep blue adding interest.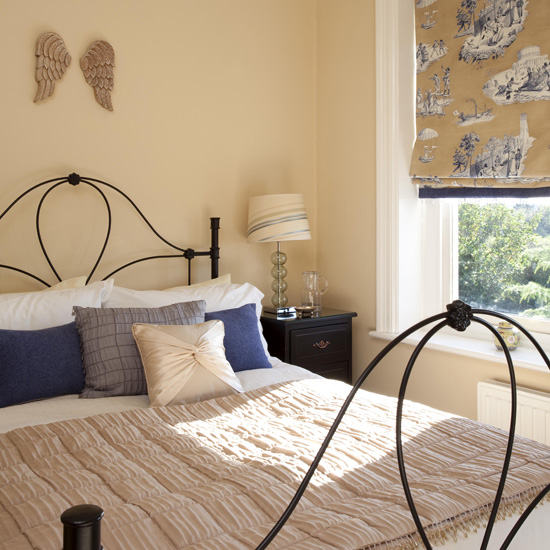 Bijou country bedroom with brick walls
The rustic brickwork and detailing around the bed make a lovely focal point in a country bedroom. Floral soft furnishings add a pretty and elegant touch.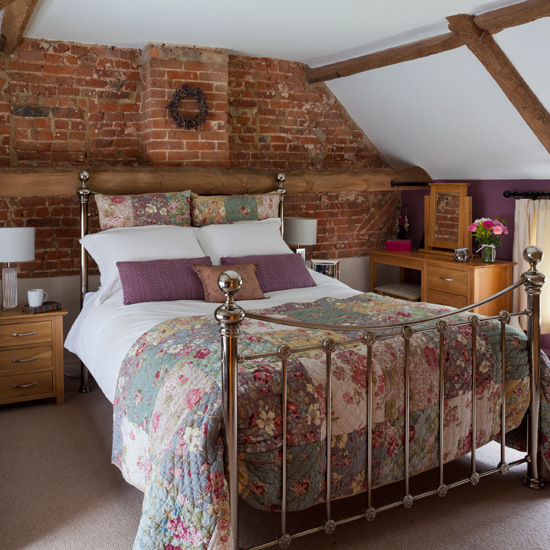 Mini master bedroom with textured bedding
Opt for a storage footstool positioned at the foot of your bed, providing valuable extra storage space in a small bedroom. A variety of textures and shades create a warm atmosphere in this master bedroom.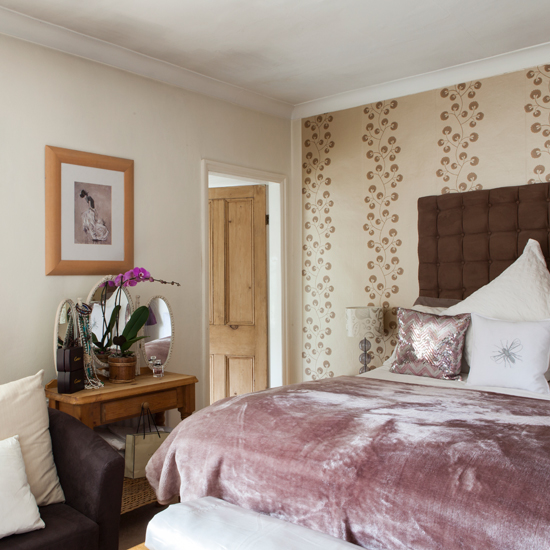 Guest bedroom with pink accents
Large-scale floral printed bedlinen makes a bold statement in the bedroom. The shots of pink lift the darkness of the original wooden beams.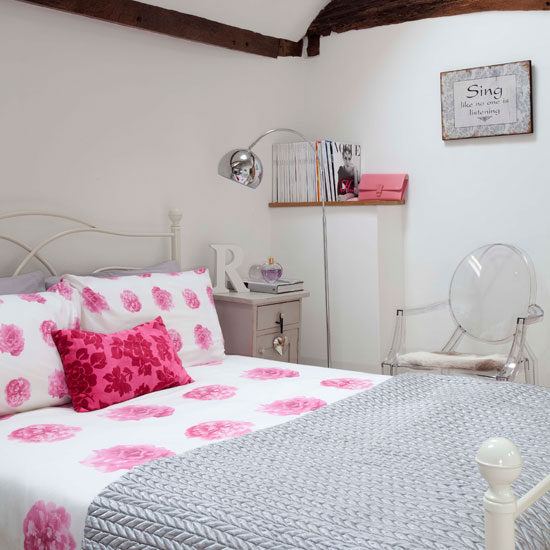 Elegant box bedroom with blue toile fabric
Blue toiles and checks, distressed and painted furniture, and a delicate lace bedspread exude classic French charm.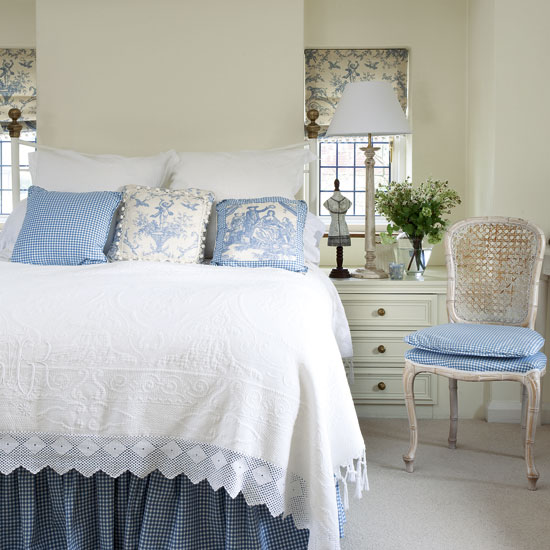 Small bedroom with floral headboard
Give your bedroom a country feel with a headboard in a floral motif and oatmeal tones. Built in shelves are a stylish way to store books.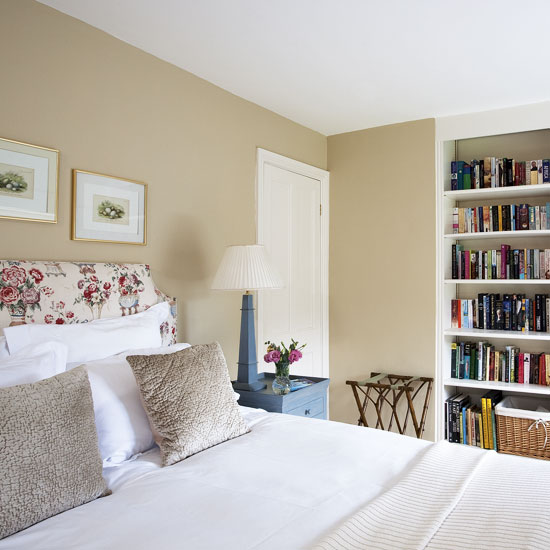 Blue and white country bedroom
Make a small bedroom appear larger by choosing a predominantly white look. Add just a hint of colour with pale blue furnishings to help define the area. Toile wallpaper and check and striped fabric are combined here to create a classic English look.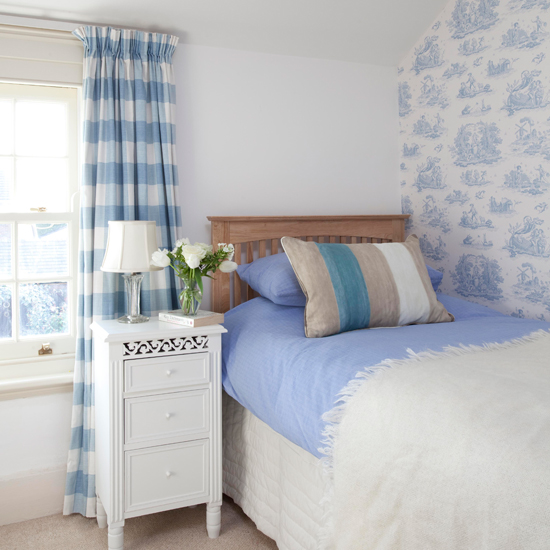 All-white bedroom with a hint of colour
Make a small bedroom appear larger by choosing an all-white look. Add just a hint of colour with pale duck-egg cushions to help define the bed area.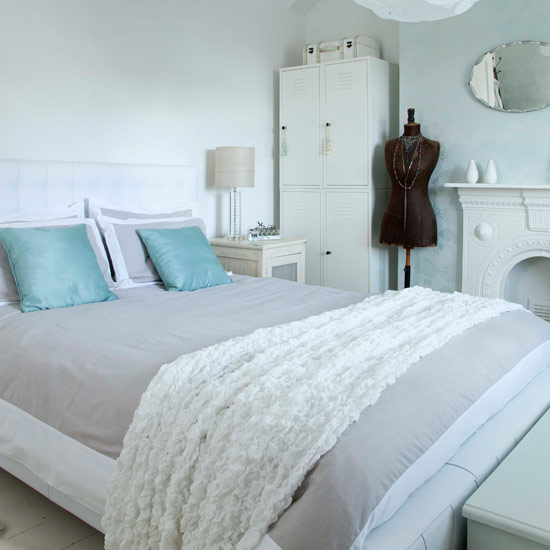 Tags : storage ideas for a small bedroom,creative storage ideas for small bedrooms,diy storage ideas for small bedrooms,storage ideas for small bedroom,storage ideas for small bedrooms,small master bedroom decorating ideas,small bedroom decorating ideas on a budget,small bedroom decor ideas,decorating ideas for small bedrooms,small bedroom decorating ideas,decorating ideas for small bedrooms,small teen bedroom ideas,bedroom ideas for small rooms,small bedroom design ideas,small bedroom storage ideas,ideas for small bedrooms,storage ideas for small bedrooms,small master bedroom ideas,small bedroom decorating ideas,Small bedroom designs ideas,Small bedroom designs inspirations
Source http://www.housetohome.co.uk/
Related posts
small bathroom remodel ideas on a budget, small kitchen remodel ideas on a budget, kitchen remodeling ideas on a small ... More

Home Decorations 0 Comment 1K View Hijab Collection